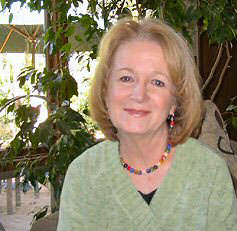 "If you read for pleasure, there's probably more pleasure per inch in Pickard's work than almost any other current crime novelist."

Cleveland Plain Dealer

"Pickard has evolved into a novelist of substantial literary power."

The Denver Post
Contact:
For interviews, photographs, tour information, publicity, contact:
Cindy Murray, Assistant Director of Publicity
Random House Publishing Group
212/782-8292
cmurray@randomhouse.com
Brief bio:
Nancy Pickard is the award-winning and critically-acclaimed author of eighteen novels and dozens of short stories. She is the co-author, with Lynn Lott, of the beloved non-fiction book for writers, 7 Steps on the Writer's Path. She is a 4-time Edgar nominee for her novels, I.O.U., The Whole Truth, and The Virgin of Small Plains, and for her unforgettable short story, "Afraid All the Time." She won the first-ever Anthony Award for Best Paperback Original Mystery for her second book, Say No to Murder. She has won multiple Agatha Awards and Macavity Awards for her novels and short stories. Her last novel, The Virgin of Small Plains, won the Agatha and Macavity awards, was a finalist for both the Edgar and the Dilys awards, and was named a Killer Book by the Independent Mystery Booksellers Association. It was a Kansas Notable Book in 2008, and it was the Kansas Reads book of the year for 2009. Her most recent novel, The Scent of Rain and Lightning has earned the following honors:
Kansas Notable Book, 2011
Barnes & Noble, Top 25 Novels of 2010
St. Louis Post-Dispatch, Top 25 Novels of 2010
Kansas City Star: Top Novels of 2010
Booklist Top Audiobooks of 2010
Finalist, Agatha Award, Best Novel
Finalist, Macavity Award, Best Novel
Finalist, High Plains Book Award for Fiction
* Publisher's Weekly, Starred Review
* Library Journal, Starred Review
* Booklist, Starred Review
Summary of novels:
10 novels in the Jenny Cain mystery series
3 novels in the Marie Lightfoot mystery series
3 novels in the Eugenia Potter series created by Virginia Rich
2 standalone novels in her new "Kansas" series.
Nancy is a founding member and former national president of Sisters In Crime, and a former national board member of The Mystery Writers of America.
She is a graduate of the University of Missouri School of Journalism and a lifelong resident of the Kansas City area.
Selected quotes:
"If you read for pleasure, there's probably more pleasure per inch in Pickard's work than almost any other current crime novelist." Cleveland Plain Dealer
"Pickard has evolved into a novelist of substantial literary power." The Denver Post
"Nancy Pickard continues—along with Sara Paretsky and Sue Grafton—to deliver the best." Houston Chronicle
"If anybody writes literary mysteries more compelling than Pickard, I have yet to read that novelist." Kansas City Star
"Pickard (is) one of today's best writers, period." San Diego Union
For The Virgin of Small Plains:
"Crisply written, this new novel about loss of faith, trust, and innocence is utterly absorbing." Tuscon Citizen
"Pickard writes with insight and compassion." The New York Times Book Review
For The Whole Truth:
"Sensational. . .a stunning synthesis of psychological suspense and commentary on our culture of celebrity." Publisher's Weekly (starred review)